Showing all 8 results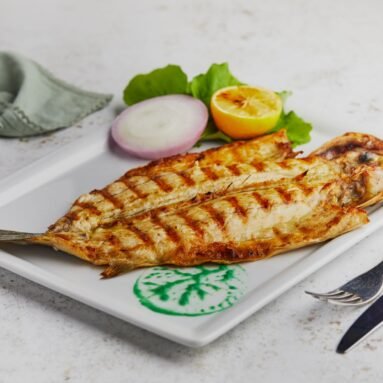 Whole sea bass flame-grilled, decorated with lemon, red onion and rocket
Shrimp Platter – Seafood Platter – Grilled Seafood Platter
Seafood has long been a significant part of Dubai's culture. Emirati fishermen have depended on the vast marine resources of the Arabian Gulf, employing traditional fishing techniques to maintain their communities and forge a rich culinary legacy centred on the sea's freshest catches.
Deniz – Best Turkish Restaurant Dubai, we take pride in presenting an exquisite seafood platter that will satisfy even the most discerning palates.
Grilled Seafood Platter – The coastal shores of Turkey in a plate
Butterfly Sea Bass:
Enjoy the unique flavours of our Butterfly Sea Bass. The sea bass is expertly flame-grilled, producing a luscious and delicate fish. Each bite is a flavourful symphony adorned with zesty lemon, tart red onion, and refreshing rocket leaves. The colourful accompaniments and the tender sea bass flesh combine to make a dish that is aesthetically pleasing and scrumptiously delicious.
Grilled Jumbo Shrimp:
Prepare to be captivated by our Grilled Jumbo Shrimp Platter. Weighing in at 300 grams, these succulent shrimps are flame-grilled and basted with a heavenly combination of butter and garlic. Served on a velvety bed of eggplant puree, this dish is a harmonious blend of textures and flavours. The rich, buttery shrimps complement the smoky undertones of the grill. At the same time, the silky eggplant puree adds a creamy note to every mouthful.
Seafood Platter (Sharing plate)
:
Our Seafood Platter is the only option for a decadent experience. Jumbo prawns, octopus, calamari, salmon skewers and sea bass skewers are among the mouth-watering seafood options in this shared dish. Choose two full butterfly fish from either sea bass or sea bream to enrich the meal. Each deliciously cooked and beautifully arranged component of the platter is a celebration of aquatic delights. Enjoy the pleasures of communal eating by dividing this generous dish among your loved ones.
Sea Bass Oven Baked in Milk:
Our Sea Bass Oven Baked in Milk will leave you with a symphony of flavours. A decadent béchamel sauce enriched with the richness of mushrooms, tomatoes, and green capsicum envelops dainty baby prawns and delicate sea bass fillets. This dish, baked to absolute perfection, comes out of the oven with a mouth-watering aroma. The fish and creamy sauce combine perfectly to form a mouth-watering dish.
Salmon Skewers:
Enjoy the flavour of the ocean with our grilled salmon skewers. Juicy tomatoes and brilliant green capsicum are skewered with plump salmon chunks. These skewers are flame-grilled to perfection and basted with olive oil. The result is soft, juicy salmon with a light, Smokey char. This recipe is a celebration of simplicity and pure flavours. The sharpness of red onion, the zing of lemon, and the freshness of the rocket accompany it.
Sea Bass Skewers:
Enjoy our grilled sea bass skewers' delicious aromas. These skewers are marinated in a mouth-watering concoction of bay leaves, lemon, olive oil, thyme, and chilli to give the sea bass a blast of Mediterranean flavours. The skewers of fish, which have been expertly grilled, provide delicious bits, and the freshness of the rocket and lemon and the tangy overtones of red onion are a nice compliment. Let the pulse of the Mediterranean make your taste buds dance.
Salmon grilled
:
Our grilled salmon will elevate your seafood dining experience. The inherent flavours of the salmon are emphasised in this meal to the fullest extent. Olive oil, lemon, and salt are lightly sprinkled on the salmon after it has been expertly flame-grilled, letting the fish's natural richness come through. This meal perfectly balances simplicity and sophistication when paired with a velvety pile of mashed potatoes. A moment of absolute enjoyment is created with each mouthful, revealing the salmon's buttery texture.
Butterfly Sea Bream
:
Indulge in the flavourful subtlety of our Butterfly Sea Bream. This sea bream is perfectly flame-grilled, much like its sea bass counterpart. This recipe is a work of art in terms of presentation, embellished as it is with brilliant red onion, tangy lemon, and fresh rocket leaves. The acidic side dishes are the ideal match for the seabream's soft flesh, which has a light sweetness. Each bite transports you to the Mediterranean seaside with a symphony of flavours.